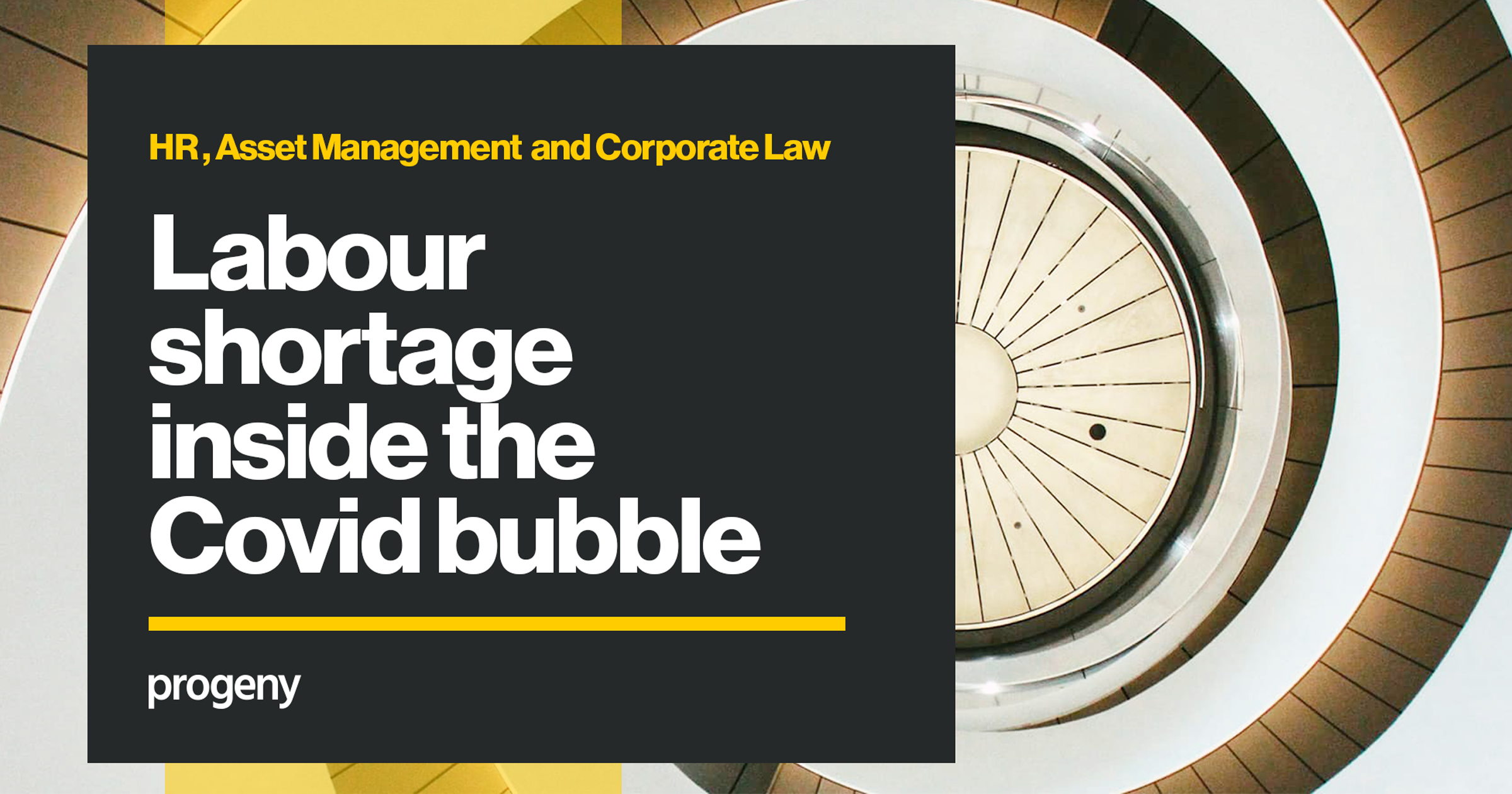 23 Jun

Labour shortage inside the Covid bubble

In recent months, many businesses have reported a labour shortage and difficulties in recruiting staff, in perhaps an unexpected development of a pandemic year when economies were braced for higher unemployment as a result of the volatile economic climate.

We are still operating inside the Covid bubble where it is difficult to predict with any certainty or scope but it's a reality that many businesses in the UK and at global level are currently struggling with finding and onboarding staff. We've brought together a number of Progeny's advisers to outline the effect this is having on their sectors and clients.
Considering the recruitment picture, Rebecca Dixon, Head of HR said:
"We're finding that many employers are looking to recruit. This isn't necessarily the scenario we expected to see playing out this year. We expected the majority of businesses to be scaling back, cutting their cloth according to reduced means and consolidating their position until the storm passed. However, many sectors have witnessed a strong demand for new employees. Brexit has likely played a part in this as well as the sharp increase in online spending resulting from lockdown, which has created opportunities in associated job roles.
"A large number of our clients are finding it's a candidate-driven market and are struggling to fill a wide variety of positions. There simply isn't the same interest in vacancies, meaning there is a smaller pool of candidates to choose from. Job hunters are aware of this and are in turn making their own demands about the job offer, outside of the usual remuneration negotiations. The events of the past year now mean that flexible and remote working is a key consideration for many and employers have to be prepared to think outside the box in order to secure the best candidates.
"Some research recently undertaken by LinkedIn supports this, suggesting that turnover in the recruitment market might have slowed because many employees are fearful of a 'last in, first out' scenario, placing the emphasis on employers to provide confidence of job security to attract candidates.
"We're also seeing a strong, ongoing need for training. We have delivered plenty of training programmes this last few months. Again, this is surprising as usually training budgets are one of the first 'luxury' items to be cut when times get tough.  It's not easy to generalise on why this is happening, but it's clear that many businesses and organisations are using this period to invest in upskilling their staff to ensure they are in the best possible shape, coming out of lockdown with a core team of employees who are invested in the longevity of the business."
Looking at the impact on the corporate sector and investing, Rob Harrison, Investment Manager, said:
"We speak to a lot of CEOs in the course of our investment analysis and research many are reporting potential labour shortages as one of the bigger challenges they're facing at present. While sometimes we would see a labour shortage affect one industry only it now seems to be affecting a number of industries and sectors across the board, which is uncommon.
"We are seeing companies take a couple of main approaches to the issue. One is that they are providing incentives, such as McDonalds offering $50 to candidates just for showing up at a job interview in the US, or restaurant chain, Hawksmoor, offering £2,000 referral bonuses for employees who can recommend candidates for vacant roles. The other is that companies are sitting tight for the time being, and waiting until October, when the furlough period ends. This could see an influx of labour into the market if businesses make redundancies and therefore it could be cheaper to hire then than it is currently.
"However, from an investment perspective, the key takeaway is that there is so much about this situation that is unprecedented that the future is very difficult to predict."
Addressing the issue from the employment law perspective, Zee Hussain, Associate Director, said:
"We're operating in something of a bubble at the moment. When the furlough scheme comes to an end completely in October we will have a clearer idea of how the land really lies. Many people will have taken a step back from the normal rhythms of working life, for family, health or personal reasons which further obscures a true reading of where the country is at in attitude towards work.
"At the moment, people are still on the books of their employers but as the furlough period tapers down and then ends it is likely many businesses, when permitted to do so, will be looking to make redundancies. Then we are likely to see people flooding back into the marketplace.
"From an employer's perspective, now that we know the Government is not putting any more money into the pot and that the scheme is all but certain to finish at the end of October, they should start to plan now if they are anticipating the need to make reductions in headcount.
"Thinking about the situation from an employee's perspective, there is no real benefit or logic to them taking any action at present when it comes to changing job, particularly if their salary is being topped up to 100% by their employer. Someone with a significant length of service would lose out on benefits if they left now rather than if they waited until their employer's hand was forced when they could stand to receive a redundancy package or benefit from a negotiated exit.
"We have been in this bubble for quite some time and it feels as if it has shifted and grown as the end of the pandemic has continually extended out of our reach but it would appear that we are reaching the endgame now. There hasn't been an imperative for employers or employees to take action but with the end of October deadline approaching, we are likely to see an increase in activity from now on. It's a time for making prudent and proactive decisions."
If you or your business would benefit from some support from our advisers in this unprecedented period, please get in touch.